OSIT-1000 Instrument Table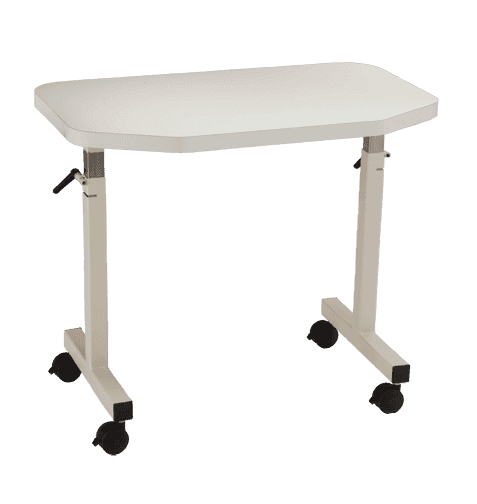 Product Info
Description
The OSIT-1000 Mobile Instrument Table provides a stable and adjustable laminate working surface for medical and dental specialties. It efficiently uses floor space next to and over the patient by straddling the patient and the chair/table. It is designed with an all steel frame construction and an attractive crystal laminate countertop to aid in cleaning. Additional options include: special colors, counter top edge guards, IV rod/holder and high volume evacuation tip holders.
Counter Size: 23.75" x 39"
Counter Finish: crystal laminate
Table Top Height: 30.5-48"
Pull-Out Tray: none
Weight Capacity: 300 lbs.
Casters: 4 twin-locking urethane
Table Top Height:

Weight Capacity:

Counter Size:
Countertop Finish:

Pull Out Tray:
Downloads
Accessories
Countertop Edge Guard
The edge guard prevents instruments and implants from falling onto the floor, keeping them safe and clean.
IV Rod for Instrument Tables
The IV rod can attach to either side of the chair, saving valuable floor space, and is vertically adjustable.
Universal High Volume Evacuation Tip Holder
Universal High Volume Evacuation Tip Holder for mounting various evacuation tips to the side of your OSIT. The holder swings for easy access by the operator.
Special Color for OSIT
MTI has a variety of special color laminates or solid surface colors to choose from to customize your instrument table to match the decor of your exam room. Contact MTI at 800-924-4655 for a complete list of special laminate colors.